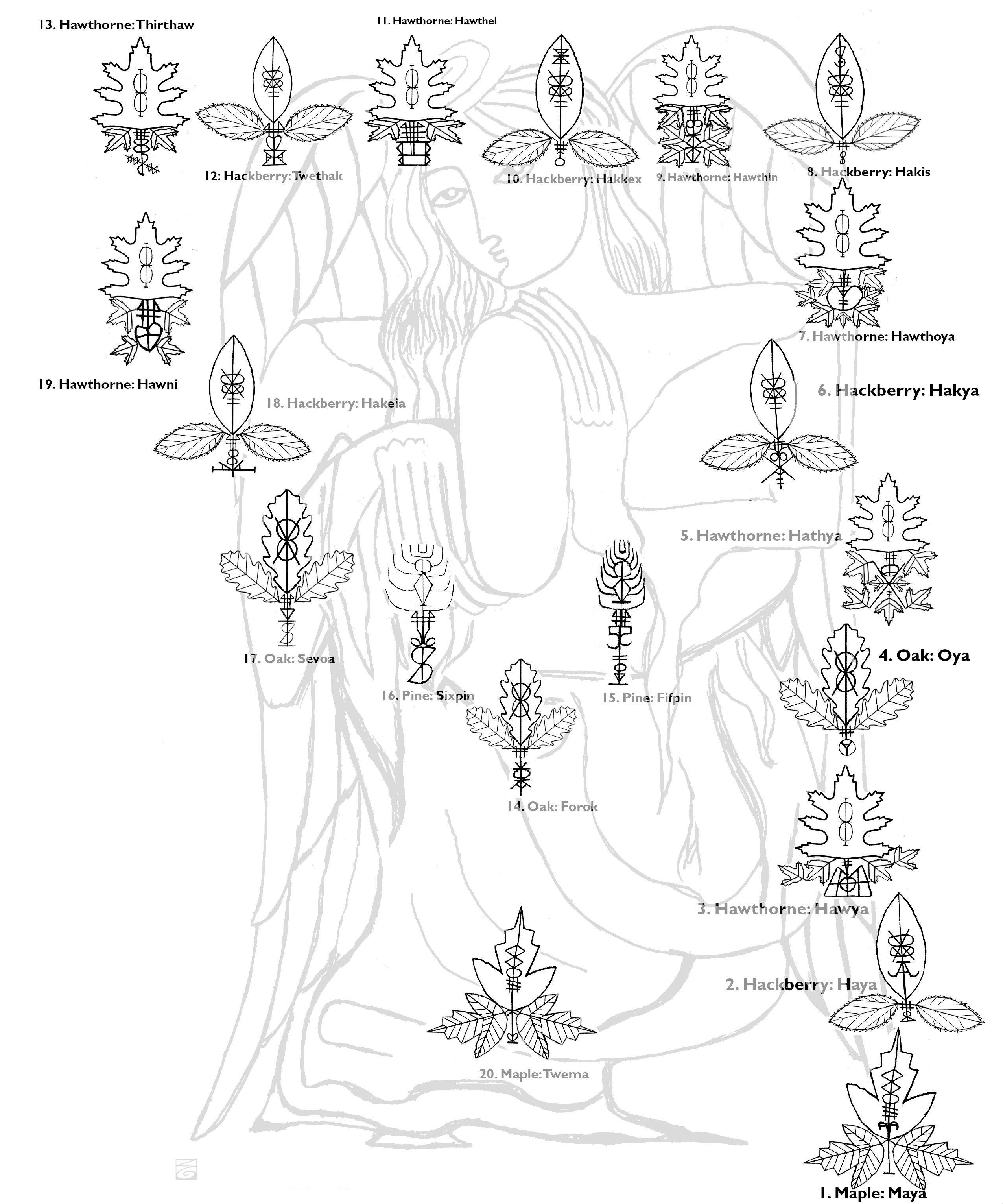 We planted 19 trees at our property, and I have created prayer sigils for each one. The sigils include the name of the tree, which was whispered to me by It's Higher Self, and the kind of tree, and a positive statement for it's long life and health to glorify The Creator.
Here's the sketch for what I am going to do. It's going to be about 15″ x 18″, possibly, or I might make it twice that size.
It will probably have these images that I sized and perfected in GIMP – glued to the wood – hand colored with colored pencil or oil pastel or acrylic.
There will be no words -those are just there for now as a map for me to solidify the trees and their names and locations on the property.
Although, I might use digital photo collage – not sure.
I will use encaustic, most likely to seal the whole thing so that is more like a painting.
There will likely be an angel or nyads and dryads and other elementals and Nature Spirits weaving in amongst the Trees.
This piece is for my partner for our 5th Anniversary. It is to help the trees grow out at our property. He will likely not use the sigils himself – he's just not the type do it, but I have created the sigils, so my prayer energy for the Trees is being utilized now.
The 20th tree, Twema, is here at home, under grow-lights having been ravished by grasshoppers all summer. She will stay here until next spring when we will go plant her out there…with the others.
Previous Posts:
https://peakd.com/naturalmedicine/@in2itiveart/prayer-sigils-for-trees-part-1
https://peakd.com/art/@in2itiveart/prayer-sigils-for-trees-part-2-tree-names-as-sigils